Auchlandskies
Glendovan, Perth, Scotland
---
Note 6
(to Paton's Genealogy - 1893)
Auchlandskies Over and Nether in the parish of Glendovan and county of Perth.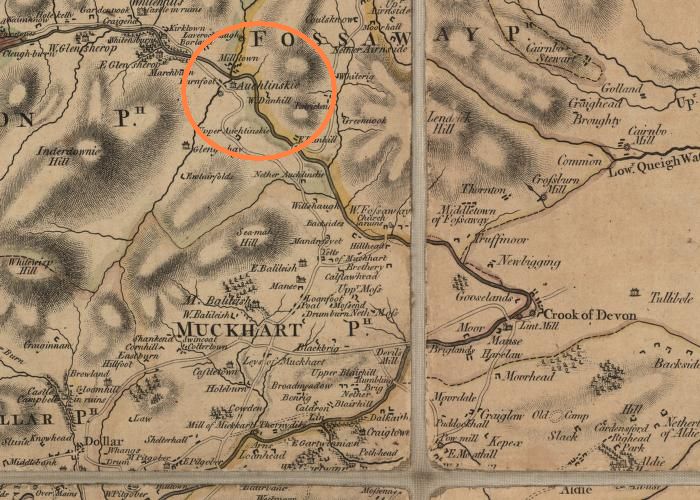 From The Counties of Perth and Clackmannan. [1783] by James Stobie, fl. 1775-1804. Source: National Library of Scotland
Colonel John Irvine of Burleigh conveyed this estate to Colonel David Graeme of Gorthy in 1764, who conveyed it to Captain Henry Graeme, sometime of Hanwell, Middlesex, afterwards Lieutenant-Governor of St. Helena, in 1765. His daughter Anne (wife of Sir Andrew Snape Hammond) conveyed it to General David Graeme in 1788, who bequeathed it to Charles Masterton, Captain in the 30th Regiment of Foot, his nephew, in 1789. In 1791 James Masterton was served heir in special in these lands to Charles, his brother, and in the same year he sold them to Thomas Hepburn, Esq. of Colquhollie.