Gogar
Logie, Perth, Scotland
---
Note 5
(to Paton's Genealogy - 1893)
Gogar, in the parish of Logie and county of Perth.
From A Mapp of Clakmanan Shire. [ca. 1681] by John Adair, ca. 1650-1722. Source: National Library of Scotland
This property, which had belonged to the Keiries of Gogar, daughters of which house married two sucessive generations of Mastertons, though in Perthshire, lies within a few miles of Parkmill. It was purchased for Charles Masterton by Mr. Edward Callander, Writer in Edinburgh, who conveyed it to him by disposition, dated 30th October 1727. Charles settled the lands on himself in liferent and his son Francis in fee. James Masterton sold them in 1800 - 1801, when he purchased Braco.
---
Note: on the Adair map, and later maps, there are two lands of Gogar reasonably close to Parkmill. Paton's text implies the closer of the two. However, the later map below, suggests that Mastertons owned Gogar to the west of the Devon.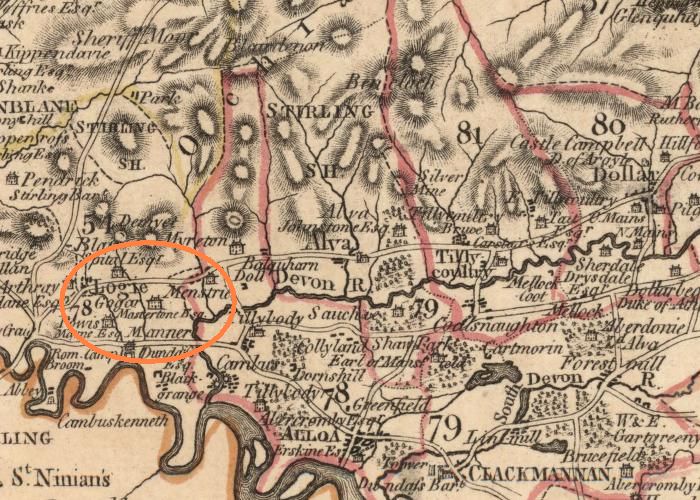 From The counties of Perth and Clackmannan. Imprint: Perth [1805] by James Stobie, fl. 1775-1804. Source: National Library of Scotland