Leading Seaman Forbes Masterton
Clyde Z/654, 189th Machine Gun Coy. R.N. Div., Royal Naval Volunteer Reserve
killed in action 24th April 1917

aged 29

Arras Memorial
Panbride War Memorial

Son of John Masterton and Ellen Scollay
Husband of Isabel Barry Fyfe McMath
Forfar, Scotland
---
Genealogy
Forbes Masterton was born at Mid Street, Lochee, Dundee, Scotland on 21 January 1888, the tenth child of John Masterton, Commercial Traveller, Grocer and photographer, and Ellen Scollay. Ellen was 40 years old when Forbes was born. In 1908, Forbes's father John died in the Commercial Hotel, Portsoy, Banff. Forbes was educated at St Andrew's University between 1907 and 1910, after he which he became a schoolteacher. He is listed in the 1911 Census in Kilmarnock, but later moved to Dundee. By 1915, Ellen was living in Lochty Street, Carnoustie, Angus, Scotland. Forbes's younger brother Gilbert was killed in the war in 1915. Further details of Forbes's parents and twelve siblings and the extended family of Mastertons originating from Largo can be found at the following link.
---
His War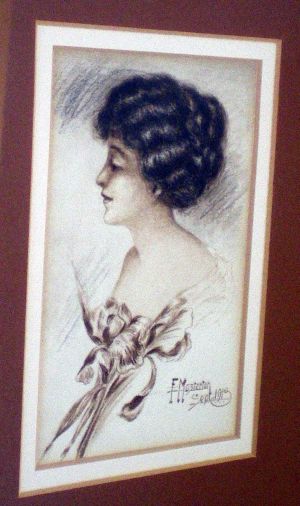 Forbes volunteered for the Royal Naval Voluntary Reserve on 4th October 1914, soon after the war started. He was 5'7" tall, with brown hair and grey eyes. But the navy had surplus volunteers and the army was short of men. Drake battalion was one of eight infantry battalions created to form the Royal Naval Division. Its first action was in the Gallipoli landings. Forbes was wounded in action on 11th May 1915 (gun shot wounds, upper arm), timing consistent with the Royal Naval Division landing at Helles, between the second and third Battles of Krithia. He was admitted to the Egyptian Government Hospital in Alexandria on 22 May. By 9th July 1915 he was at Mustapha Camp, Alexandria in Egypt and on 18th July embarked on HMT "Knight Templar" to rejoin his battalion. He later caught influenza and was invalided home on the Hospital Ship "Itonus" from Mudros harbour on 9th September 1915.
He found time when back in Britain to return to Forfar to marry Isabel Barry Fyfe McMath, also a schoolteacher, on 30th October 1915.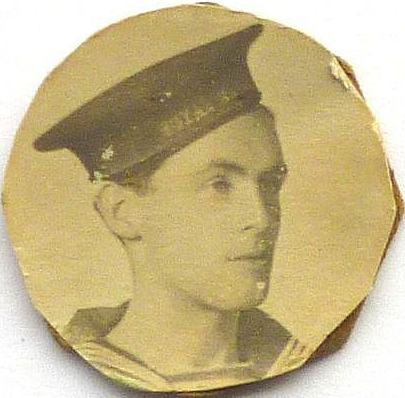 on 22 November he was in Blandford with the 1st Reserve Battalion and by May 1916, he was back with 2nd "Drake" battalion, "B" Company and was promoted to Leading Seaman on 6th July 1916. On 9th September 1916 he was transferred to Brigade Machine Gun Company. The 63rd (Royal Naval) Division had been sent to France in May 1916, and Forbes left from Depot Machine Gun Company, Grantham, on 24 November to join the Division on the front line. He was at the Machine Gun Corps Base Depot in Camiers on 12th February 1917, later transferring to 189th Machine Gun Company. The Division took part in the Second Battle of the Scarpe (23-24 April 1917), a phase of the Arras Offensive, capturing Gavrelle. But Forbes was reported "killed in action" on 24 April 1917.
He was a talented artist as shown by his painting of his future wife, Isabel, signed and dated September 1913. Isabel married again in 1921, but kept the small image of Forbes in his naval uniform in her locket; both images kindly supplied by Emily MacMath.
---
Forbes is commemorated on two memorials: the Arras Memorial, and the Panbride Church War Memorial in Carnoustie, Angus, Scotland.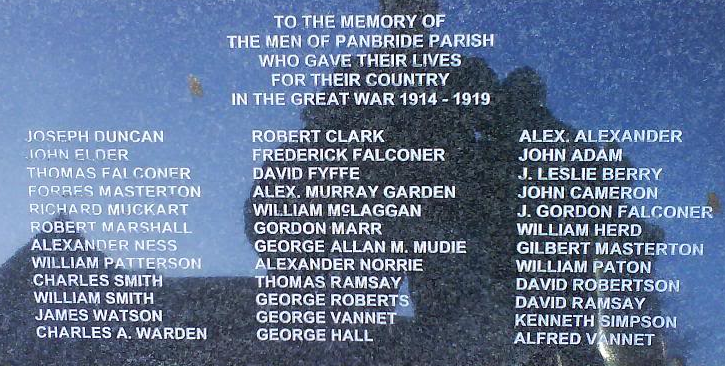 Forbes's name is in Column 1, four down, on the Panbride Memorial.
---
The Scotsman
Ord. Smn., R.N.V.R.- DRAKE BATTALION. WOUNDED. ...Masterton, F., Ord. Smn., R.N.V.R...Reported under date 12th May.
The Scotsman
Edinburgh
17 May 1915
---
Unit War Diary: 189th Machine Gun Company
In the Field: 22 April 1917: Preparation for assault on GAVRELLE in conjunction with the Divisions on our flanks.
23 April 1917: The Assault, GAVRELLE taken. 8 machine guns mounted in new front line. The remainder engaged in effecting defensive barrage from the rear lines. Casualties small, Two guns put out of action.
24/25 April 1917: Still in the line. 6 guns relieved and returned to billets.
National Archives
Kew, London
Unit War Diaries: WO 95/3115/2
63 (Royal Naval) Division; 189 Infantry Brigade; 189th Machine Gun Company
May 1916 - February 1918
---
Other Sources